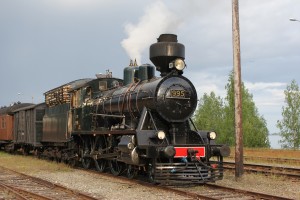 A SteamTrain in North-Karelia
Listen to the puffing of the steam locomotive, the clanking of  rails. Hear how the whistle blows and the bell clangs. Sniff the burning birch wood and see how the power of steam gets a train moving.
Welcome to a museum train excursion. A steam train lets you get acquainted with unhurried way of travelling of travelling of a bygone era. Our steam trains are ready to take you on a journey into the word of  into the world of fhe past.